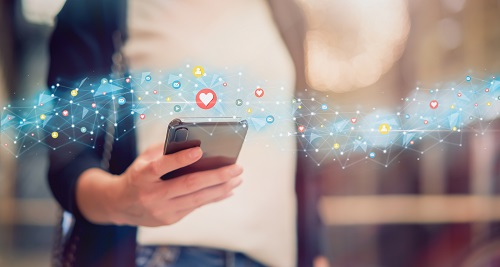 Day one of eyeforpharma Philadelphia virtual opened with keynote speakers discussing how their organizations are "becoming healthcare's solution." One of these keynote speakers was Danielle Salowski, Industry Manager for Facebook Health. Danielle came to Facebook in May of 2016 to launch a team focused on partnering with pharma marketers to serve the needs of such a unique industry. Her presentation showcased her team's latest work in their effort to support the health care.
THE POWER OF SOCIAL MEDIA HEALTH PLATFORMS
First, let's start off with some key statistics about social media that show the incredible opportunity it presents in bettering the health of people around the world.
Did you know that 50 percent of US internet users are following some type of health care professional, health company or health influencer on social media? Furthermore, 80 percent of people use social for health info.
During the COVID-19 pandemic, utilizing the power of Facebook has never been more important. Danielle proudly showed viewers "data for good tools," which are tools within Facebook's platform designed to use data to best monitor and prevent the spread of disease, all while protecting personal information and following guidelines on how to respond to government requests for data.
Below are the two major health platforms she discusses:
If you are a Facebook user, you may have seen the COVID-19 Information Center at the top of your newsfeed. This tool launched on March 19th, 2020 and provides ample information from trusted sources such as the CDC and the WHO on how to stay healthy, offers daily updates on COVID-19, tips for staying at home, social distancing best practices, and more.
The Facebook Health team continues to support researchers and non-profit groups combat against COVID-19. In May of 2019, they launched their Disease Prevention Maps which offer disease forecasting measures, the probability of where COVID-19 will appear next, insights into if preventative measures are headed in the right direction, and which areas are being hit the hardest.
OTHER FACEBOOK HEALTH TOOLS OUTSIDE OF COVID-19 
Danielle also disclosed the work her team is doing outside of COVID-19, including:
Preventative Health, which launched in 2019, recommends tests, screenings based on demographics to help prevent disease and illness.
Vaccine Misinformation was created to help remove misleading and incorrect information around vaccines. It serves to provide accurate content on the importance of vaccinations.
Blood Donations
As said by Danielle, every few seconds, someone needs blood. Since 2017, Facebook has been partnering with blood donation centers on a global level to help boost the number of blood donors. This feature is active in five countries and more than 35,000,000 people have used it to sign up as blood donors!
WHERE PHARMA BUILDS BRANDS ON MOBILE – REAL WORLD CASES
Facebook and Instagram platforms are efficient and effective solutions to building a safe and compliant presence for pharma brands on mobile. Where Facebook was once viewed as a place for testing small marketing campaigns has now evolved into an essential part of a pharma brand's marketing strategy.
As Danielle explained it, "Facebook is unique in that it is ever present where the patient is present," meaning that brands can be there for patients every step of the way, weather it is during the awareness phase (discovery of brand), during the consideration phase where intent is captured, or when adherence is actively being driven with more sophisticated targeting, such as through longer videos and savings card ads.
There are many pharma brands that are seeing exceptional results utilizing social channels for their marketing campaigns.
For example, AstraZeneca chose to use Facebook with a goal of boosting awareness around their asthma and COPD drug, Symbicort. After testing Facebook video ads and TV ads targeted at US adults aged 40-64, a 3-point lift was evident in message association in people who saw the ads on both platforms, a 4 -point lift was seen in action intent to speak with a doctor about the drug, and a 46 percent lower CPM was observed.
Similarly, Cigna added more placements and combined video ads in Instagram stories with video ads in newsfeed, which boosted awareness with an 8-point increase in ad recall and reached 120,000 additional people.
Social media sites are playgrounds for engaging with one another, and a big one at that, with stats from 2019 showing that there are 3.5 billion social media users in the world. This number will only continue to rise. If done the right way, using social media's power will certainly yield great results for pharma brand teams in their effort at getting their messages to the right audiences.
Facebook and other social platforms are becoming the more preferred way patients, anonymously or publicly, are sharing and receiving information throughout their health journeys. The work Danielle and her Facebook Health Team are doing is a great reminder that social media is one impactful option to healthcare's solution.